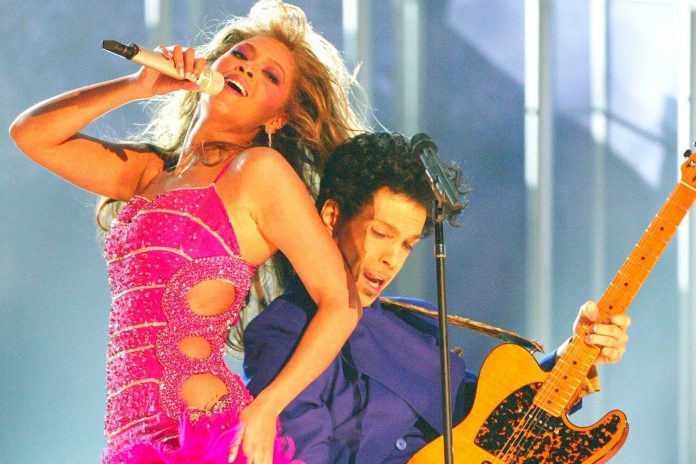 Beyonce przygotowała słowo wstępne do nowego wydawnictwa poświęconego Prince'owi.
Książka "Prince: A Private View" składa się ze z zdjęć Afshina Shahidiego zrobionych Prince'owi. Premierę wyznaczono na 17 października. Przedmowę przygotowała Beyonce. – Prawdę mówiąc, słowo "ikona" ledwo dotyka tego, kim był Prince – pisze gwiazda popu i R&B.
Prince zmarł 21 kwietnia 2016 roku w wieku 57 lat.
Do najważniejszych albumów Amerykanina należą "Purple Rain", "1999", "Dirty Mind", "Sign O' The Times", "Controversy", "Lovesexy" i "Diamonds And Pearls". Artysta zdobył siedem nagród Grammy, Złoty Glob i Oscara za muzykę z filmu "Purpurowy deszcz". W 2004 roku został wprowadzony do Rock And Roll Hall Of Fame.
Beyonce karierę zaczynała jako członkini żeńskiej grupy R&B, Destiny's Child.
Od 2003 roku działa na własny rachunek i jest dziś jedną z najpopularniejszych, najbardziej wpływowych gwiazd popu/R&B. Na koncie ma 6 studyjnych albumów. Ostatni z nich, "Lemonade", miał premierę 23 kwietnia 2016 roku. W ciągu blisko 20 lat na scenie Amerykanka sprzedała ponad 100 milionów płyt jako solistka i 60 milionów z Destiny's Child.
▸ Przeczytaj również: Katy Perry – Najnowszy album "Witness" Numer 1 na liście Billboard!
POSŁUCHAJ SINGLA
BEYONCE – FORMATION
Tekst piosenki
Beyonce – Formation
[Messy Mya:]
What happened at the New Wil'ins?
Bitch, I'm back by popular demand
[Beyonce:]
Y'all haters corny with that Illuminati mess
Paparazzi, catch my fly, and my cocky fresh
I'm so reckless when I rock my Givenchy dress (stylin')
I'm so possessive so I rock his Roc necklaces
My daddy Alabama, Momma Louisiana
You mix that negro with that Creole make a Texas bama
I like my baby heir with baby hair and afros
I like my negro nose with Jackson Five nostrils
Earned all this money but they never take the country out me
I got a hot sauce in my bag, swag
[Messy Mya:]
oh, yeah, baby, oh, yeah I, oh, oh, yes, I like that
[Big Freedia:]
I did not come to play with you hoes, ha ha
I came to slay, bitch
I like cornbreads and collard greens, bitch
Oh, yes, you besta believe it
[Beyonce:]
Y'all haters corny with that Illuminati mess
Paparazzi, catch my fly, and my cocky fresh
I'm so reckless when I rock my Givenchy dress (stylin')
I'm so possessive so I rock his Roc necklaces
My daddy Alabama, Momma Louisiana
You mix that negro with that Creole make a Texas bama
I like my baby heir with baby hair and afros
I like my negro nose with Jackson Five nostrils
Earned all this money but they never take the country out me
I got a hot sauce in my bag, swag
[Beyoncé:]
I see it, I want it, I stunt, yellow-bone it
I dream it, I work hard, I grind 'til I own it
I twirl on them haters, albino alligators
El Camino with the seat low, sippin' Cuervo with no chaser
Sometimes I go off (I go off), I go hard (I go hard)
Get what's mine (take what's mine), I'm a star (I'm a star)
'Cause I slay (slay), I slay (hey), I slay (okay), I slay (okay)
All day (okay), I slay (okay), I slay (okay), I slay (okay)
We gon' slay (slay), gon' slay (okay), we slay (okay), I slay (okay)
I slay (okay), okay (okay), I slay (okay), okay, okay, okay, okay
Okay, okay, ladies, now let's get in formation, 'cause I slay
Okay, ladies, now let's get in formation, 'cause I slay
Prove to me you got some coordination, 'cause I slay
Slay trick, or you get eliminated
[Beyoncé:]
When he fuck me good I take his ass to Red Lobster, 'cause I slay
When he fuck me good I take his ass to Red Lobster, 'cause I slay
If he hit it right, I might take him on a flight on my chopper, 'cause I slay
Drop him off at the mall, let him buy some J's, let him shop up, 'cause I slay
I might get your song played on the radio station, 'cause I slay
I might get your song played on the radio station, 'cause I slay
You just might be a black Bill Gates in the making, 'cause I slay
I just might be a black Bill Gates in the making
[Beyonce:]
I see it, I want it, I stunt, yellow-bone it
I dream it, I work hard, I grind 'til I own it
I twirl on my haters, albino alligators
El Camino with the seat low, sippin' Cuervo with no chaser
Sometimes I go off (I go off), I go hard (I go hard)
Take what's mine (take what's mine), I'm a star (I'm a star)
'Cause I slay (slay), I slay (hey), I slay (okay), I slay (okay)
All day (okay), I slay (okay), I slay (okay), I slay (okay)
We gon' slay (slay), gon' slay (okay), we slay (okay), I slay (okay)
I slay (okay), okay (okay), I slay (okay), okay, okay, okay, okay
Okay, okay, ladies, now let's get in formation, 'cause I slay
Okay, ladies, now let's get in formation, 'cause I slay
Prove to me you got some coordination, 'cause I slay
Slay trick, or you get eliminated
[Beyoncé:]
Okay, ladies, now let's get in formation, I slay
Okay, ladies, now let's get in formation
You know you that bitch when you 'cause all this conversation
Always stay gracious, best revenge is your paper
Girl, I hear some thunder
Golly, look at that water, boy, oh lord
R E K L A M A » zespoły weselne