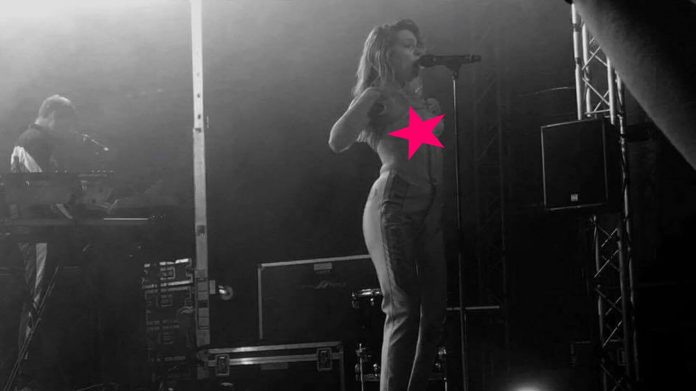 W warszawskim klubie Stodoła w poniedziałek odbył się koncert szwedzkiej piosenkarki Tove Lo, autorki przeboju "Habits (Stay High)", która obecnie promuje swój najnowszy album "Lady Wood".
19 czerwca Tove Lo odwiedziła Warszawę w ramach swojej najnowszej trasy koncertowej promującej wydawnictwo "Lady Wood". Dzień wcześniej wystąpiła natomiast jako support przed koncertem Coldplay.
Sensację wzbudził fakt, gdy podczas utworu pt. "Talking Body" Tove Lo podniosła do góry koszulkę i pokazała piersi.
W trakcie poniedziałkowego występu autorka przeboju "Habits (Stay High)" przedstawiła polskim fanom utwory z najnowszej płyty, ale nie tylko. Artystka kilkakrotnie pokazywała swoje piersi (sprawdź poniżej filmy).
Tove Lo często decyduje się na pokazanie nagiego biustu w trakcie wykonywania utworu "Talking Body". Dlaczego to robi?
"Nie cierpię, gdy ktoś mówi mi, że nie mogę czegoś zrobić, bo jestem dziewczyną. Wtedy robię to wręcz z podwójnym zapałem! Dla mnie to jest dziwne, gdy ktoś mówi, że nie jest feministką. Jak możesz nie być za równością? Myślę też, że każdy, kto tylko ma na to ochotę, powinien mieć możliwość pokazać swoje cycki" – wyznała Tove Lo w wywiadzie dla MTV.
---
Przeczytaj również: Selena Gomez w prześwitującej sukience na randce z The Weeknd! Pokazała za dużo?
Tove Lo zadebiutowała w 2014 roku, wydając płytę "Queen of the Clouds", która sprzedała się w ponad milionowym nakładzie, a jej utwory przekroczyły magiczną liczbę miliarda odsłuchań w serwisie Spotify.
Artystka zdobyła ogromną popularność głównie za sprawą singla Habits (Stay High). Utwór w wersji zremiksowanej przez duet Hippie Sabotage został odtworzony na platformie YouTube już ponad pół miliarda razy i osiągnął 3. miejsce na liście Billboard Hot 100. Lady Wood to drugi album wokalistki.
Krążek ten poszerza horyzonty artystki, pokazuje różne sprzeczności, jest bardziej dopracowany i feministyczny w swojej treści.
"Nie ma lepszego słowa jak twardzielka." – tymi słowami opisała artystka swój album.
Tove Lo pokazała piersi polskim fanom!
ZOBACZ WIDEO / KLIKNIJ NA ZDJĘCIE PONIŻEJ
TOVE LO POKAZUJE PIERSI POLSKIM FANOM!
https://www.instagram.com/p/BVi13ECl_Qx/
POSŁUCHAJ SINGLA
TOVE LO – HABITS (STAY HIGH)
Tekst piosenki
Tove Lo – Habits (Stay High)
I eat my dinner in my bathtub
Then I go to sex clubs
Watching freaky people gettin' it on
It doesn't make me nervous
If anything I'm restless
Yeah, I've been around and I've seen it all
I get home, I got the munchies
Binge on all my Twinkies
Throw up in the tub
Then I go to sleep
And I drank up all my money
Dazed and kinda lonely
You're gone and I gotta stay
High all the time
To keep you off my mind
Ooh-ooh, ooh-ooh
High all the time
To keep you off my mind
Ooh-ooh, ooh-ooh
Spend my days locked in a haze
Trying to forget you babe
I fall back down
Gotta stay high all my life
To forget I'm missing you
Ooh-ooh, ooh-ooh
Pick up daddies at the playground
How I spend my day time
Loosen up the frown,
Make them feel alive
Oh, make it fast and greasy
I'm numb and way too easy
You're gone and I gotta stay
High all the time
To keep you off my mind
Ooh-ooh, ooh-ooh
High all the time
To keep you off my mind
Ooh-ooh, ooh-ooh
Spend my days locked in a haze
Trying to forget you babe
I fall back down
Gotta stay high all my life
To forget I'm missing you
Ooh-ooh, ooh-ooh
Staying in my play pretend
Where the fun ain't got no end
Ooh
Can't go home alone again
Need someone to numb the pain
Ooh
Staying in my play pretend
Where the fun ain't got no end
Ooh
Can't go home alone again
Need someone to numb the pain
You're gone and I gotta stay
High all the time
To keep you off my mind
Ooh-ooh, ooh-ooh
High all the time
To keep you off my mind
Ooh-ooh, ooh-ooh
Spend my days locked in a haze
Trying to forget you babe
I fall back down
Gotta stay high all my life
To forget I'm missing you
Ooh-ooh, ooh-ooh
POSŁUCHAJ SINGLA
TOVE LO – TALKING BODY
Tekst piosenki
Tove Lo – Talking Body
Bed, stay in bed
The feeling of your skin locked in my head
Smoke, smoke me broke
I don't care I'm down for what you want
Day drunk into the night
Wanna keep you here
Cause you dry my tears
Yeah, summer lovin' and fights
How it is for us
And it's all because
Now if we're talking body
You got a perfect one
So put it on me
Swear it won't take you long
If you love me right
[Explicit:] We fuck for life
[Clean:] We love for life
On and on and on
Now if we're talking body
You got a perfect one
So put it on me
Swear it won't take you long
If you love me right
[Explicit:] We fuck for life
[Clean:] We love for life
On and on and on
Love, give me love
Anything you want I'll give it up
Lips, lips I kiss
Bite me while I taste your fingertips
Day drunk into the night
Wanna keep you here
Cause you dry my tears
Yeah, summer lovin' and fights
How it is for us
And it's all because
Now if we're talking body
You got a perfect one
So put it on me
Swear it won't take you long
If you love me right
[Explicit:] We fuck for life
[Clean:] We love for life
On and on and on
Now if we're talking body
You got a perfect one
So put it on me
Swear it won't take you long
If you love me right
[Explicit:] We fuck for life
[Clean:] We love for life
On and on and on
(Uh uh)
Bodies!
Our baby making bodies we just use for fun
Bodies!
Let's use them up 'til every little piece is gone
(Let's go)
On and on and on
(Let's go)
On and on
(Let's go)
(Oohhh)
Now if we're talking body
You got a perfect one
So put it on me
Swear it won't take you long
If you love me right
[Explicit:] We fuck for life
[Clean:] We love for life
On and on and on
Now if we're talking body
You got a perfect one
So put it on me
Swear it won't take you long
If you love me right
[Explicit:] We fuck for life
[Clean:] We love for life
On and on and on
Now if we're talking body
Put it on me
If you love me right
[Explicit:] We fuck for life
[Clean:] We love for life
On and on and on
Now if we're talking body
You got a perfect one
So put it on me
Swear it won't take you long
If you love me right
[Explicit:] We fuck for life
[Clean:] We love for life
On and on and on
Hey…
R E K L A M A » zespoły weselne